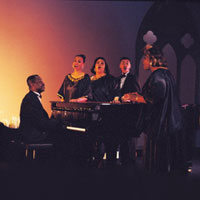 Gospel
Gospel music at its best.

The spirituals and gospel songs interpreted by the JOHNNY THOMPSON SINGERS from Philadelphia (USA) are a true confrontation with the spiritual songs by the Afro Americans.

Their musical leader, Reverend John Alexander Thompson comes from a family of musicians. His father was a pianist with the legendary Duke Ellington Jazz Band. Johnny Thompson is a pianist, singer, composer, author-writer and arranger of many Gospel songs and nine complete Gospel-song plays (Musicals). The group travelled to all five continents and participated on practically all famous music festivals. The group appeared in countless broadcasts and TV shows. In 1977 the JOHNNY THOMPSON SINGERS were awarded in Paris by the "Academie du Jazz" with the Mahalia Jackson" prize.
Go Tell It On The Mountain

Johnny Thompson Singers

DP / arr. Thompson/Nichols, Swissong

Jesus Lover Of My Soul

Johnny Thompson Singers

DP / arr. Thompson, Swissong
Glory Glory Hallelujah

Johnny Thompson Singers

DP / arr. Thompson, Swissong
The Storm Is Passing Over

Johnny Thompson Singers

DP / arr. Thompson, Swissong
Amazing Grace

Johnny Thompson Singers

DP / arr. Thompson/Nichols, Swissong
I'd Still Be Sleeping

Johnny Thompson Singers

Thompson, Swissong
NOBODY KNOWS The Trouble I've...

Johnny Thompson Singers

DP / arr. Thompson, Swissong
Just Over In The Gloryland

Johnny Thompson Singers

DP / arr. Thompson, Swissong
On Jordans Stormy Bank

Johnny Thompson Singers

DP / arr. Thompson, Swissong
First Noël

Johnny Thompson Singers

DP / arr. Thompson/Nichols, Swissong
| | |
| --- | --- |
| | The Johnny Thompson Singers (Videoclip) |
| | |