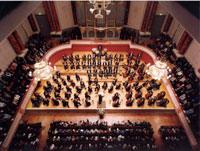 Classics
The flagship of AVC is the classical catalogue. Recording quality and renowned artists comply with the highest standards. NOVALIS offers to the connoisseurs and lovers of classical music an exclusive offer of high-quality recordings. The broad repertory includes:
Symphonic
Concertos
Organ music
Sacred music
Songs
Chamber rmusic
Internationally renowned artists like Edith Mathis, Dmitry Sitkovetsky, Ton Koopman etc. ally on NOVALIS with promising young talents. The catalogue on one side includes popular classical repertory and on the other side more specialized works which are a true "Trouvaille" for the connoisseur.

NOVALIS has recorded with the following orchestras and conductors:
English Chamber Orchestra; Sir Charles Mackerras, Simon Preston, Leopold Hager
Bavarian Radio Symphony Orchestra; Sir Colin Davis
Sinfonieorchester Basel; Mario Venzago
Zürich Chamber Orchestra; Howard Griffiths
Camerata Bern; Thomas Füri
Vienna Academy (on historical instruments); Martin Haselböck
and others
Special compilations from the NOVALIS back catalogue are available on the mid-price label SONATINA.
A. Vivaldi

The Four Seasons, "Spring"

Camerata Bern, Thomas Füri (cond)
G. F. Haendel

Giulio Cesare

Symphony for four horns, English Chamber Orchestra, Sir Charles Mackerras (cond)
W. A. Mozart

"Laudate Dominum" K 339

English Chamber Orchestra, Edith Mathis (soprano)
J. S. Bach

Concerto for violin, strings and basso continuo in a-minor

English Chamber Orchestra, Dmitry Sitkovetsky (violin and cond)
F.X. Hofmeister

Concerto for flute and orchestra in E-flat major

Franz Liszt Chamber Orchestra, Janos Rolla (cond, Claudi Arimany (flute)
W. A. Mozart

Symphony no 40 in G-Minor, Allegro molto

Zürcher Kammerorchester, Howard Griffiths (cond)
F. Schubert

Adagio opus posth, 148

Notturno, Gerhard Oppitz (piano), Dmitry Sitkovetsky (violin), David Geringas (cello)
A. Borodin

In the Steppes Of Central Asia

Moscow Radio Grand Symphony Orchestra, Vladimir Fedoseyev (cond)
F. Chopin

Variations on Mozart's 'Là ci darem la mano'

Sinfonieorchester Basel, Karl-Andreas Kolly (piano)
M. Ravel

Boléro

Sinfonieorchester Basel, Mario Venzago (cond)